Portrait of Hetman Czarniecki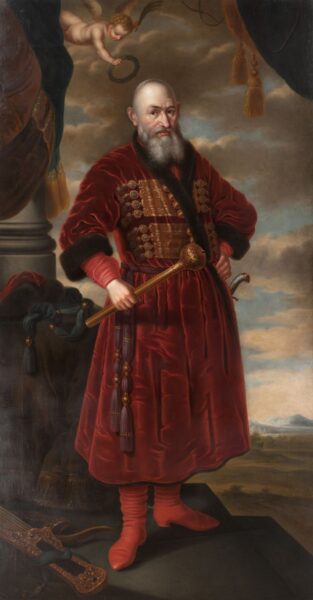 When the National Museum in Lublin was undergoing renovation, the Painting Conservation Workshop had been preparing objects for permanent exhibitions for over two years. Nearly 600 objects have passed through the hands of a team consisting of just four people.
In our new series, we will present the backstage of the restoration work on the paintings that can be seen at the new exhibitions.
We start the series with the painting Portrait of Hetman Czarniecki, featured in the permanent exhibition of the Crown Tribunal in Lublin. It presents a 19th-century copy of an unknown author of the image of the Field Hetman, Voivode of Kiev and royal regimentarz, Stefan Czarniecki, based on the 17th-century painting by Bordero Matthiessen.
The work belongs to large-format paintings. Before conservation, the painting was stored in a warehouse. Over time, defects in the mortar, chipping in the paint layer, colour changes and damage caused by microorganisms began to appear on its surface. The damage caused by the excrement of spiders and insects, in the form of tiny, small black spots, covered the entire surface of the painting. They were most visible in the sky and reds.
The first stage of work on the painting was to clean its painted surface of surface dirt with a cotton pad soaked in white spirit. Once the tampon had no traces of contamination, the softened insect droppings were gently removed. It was necessary to very slowly, gently, mechanically, using a scalpel, remove these impurities so as not to damage the thinly laid paint layer. After cleaning of surface dirt, the mortar was replaced. The so-called kity were properly developed and prepared for painting retouching. The painting was stored without looms for a long time, so the canvas needed straightening. On the low-pressure table, the painting was stabilised on the canvas and the mortar with the paint layer was made more flexible. At the next stage of work, the painting was stretched over new looms. The colour merging of the painting layer was made with water-based paints. Then the painted surface was secured with the final varnish. Work on the painting lasted nine months.
Conservation was carried out by Justyna Ślusarczyk, senior conservator from the Painting Conservation Workshop of the National Museum in Lublin.